Product image 1
Product image 2
Product image 3
Product image 4
Product image 5
Product image 6
Product image 7
Product image 8
Product image 9
Product image 10
Product image 11
Product image 12
Product image 13
Product image 14
Product image 15
Product image 16
Product image 17
Product image 18
Product image 19
Product image 20
Regular price
$109.95 AUD
***Now available in 7 different stitching colours!***
This one is for photography ninjas! Both sides are beautiful black leather with matching black ends and blind embossed Lucky logos!
The Standard 53 Range
This is the perfect upgrade from your stock camera strap!
Our first strap, the 'Standard 53' is wider, longer handmade from soft leather so that you can carry your DSLR all day without getting sore.
Our straps don't wear out, they wear in! Every strap has unique textures and marks, it will get softer and more beautiful every time you use it.
What you are looking at is a body of two pieces of 100% leather which is stitched together for strength and comfort. We then add our embossed end pieces which and glued and cross stitched to connect the 10mm webbing to the main body. These are real letter straps that are handmade in our Australian factory!
Details and Sizing
Will it fit me?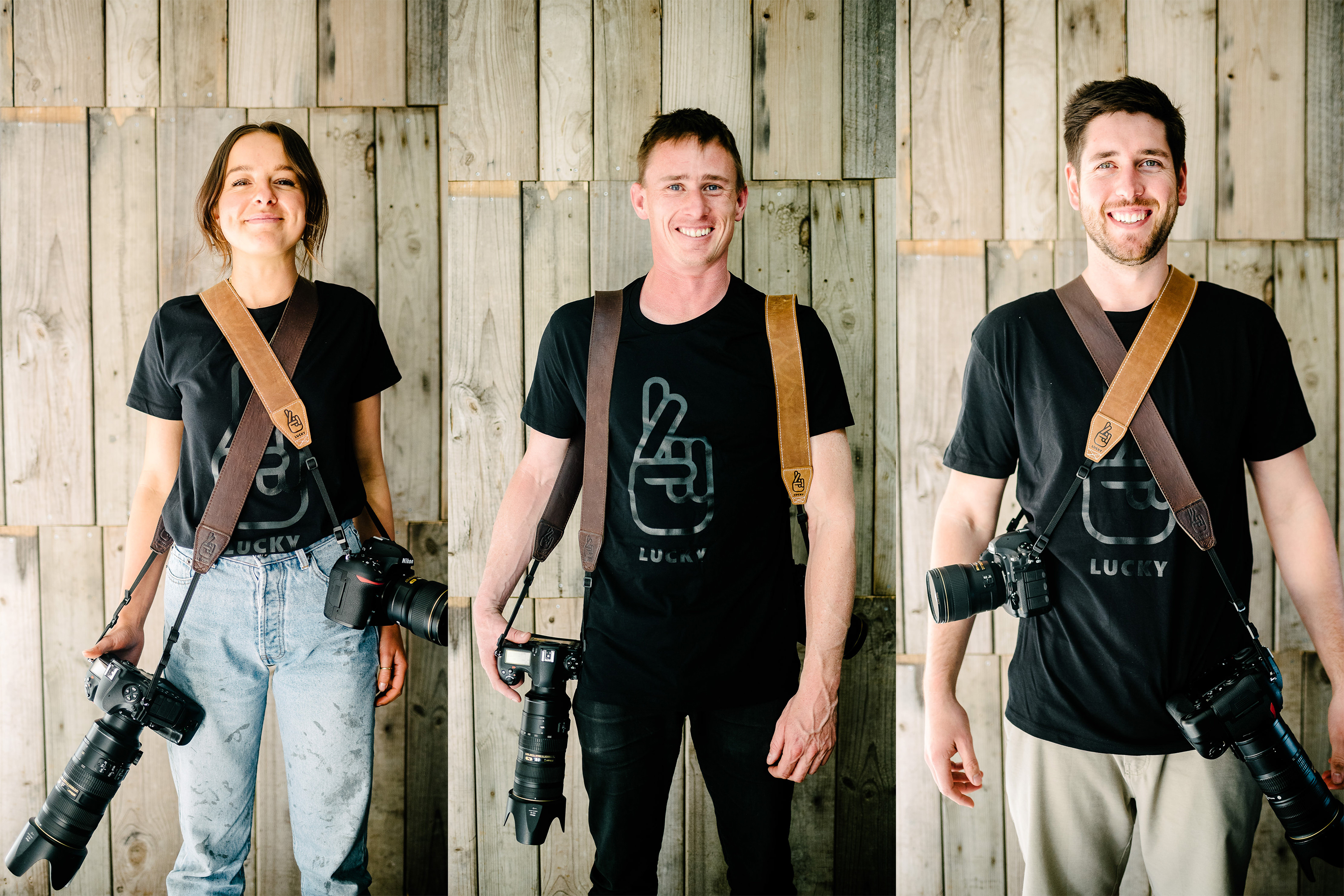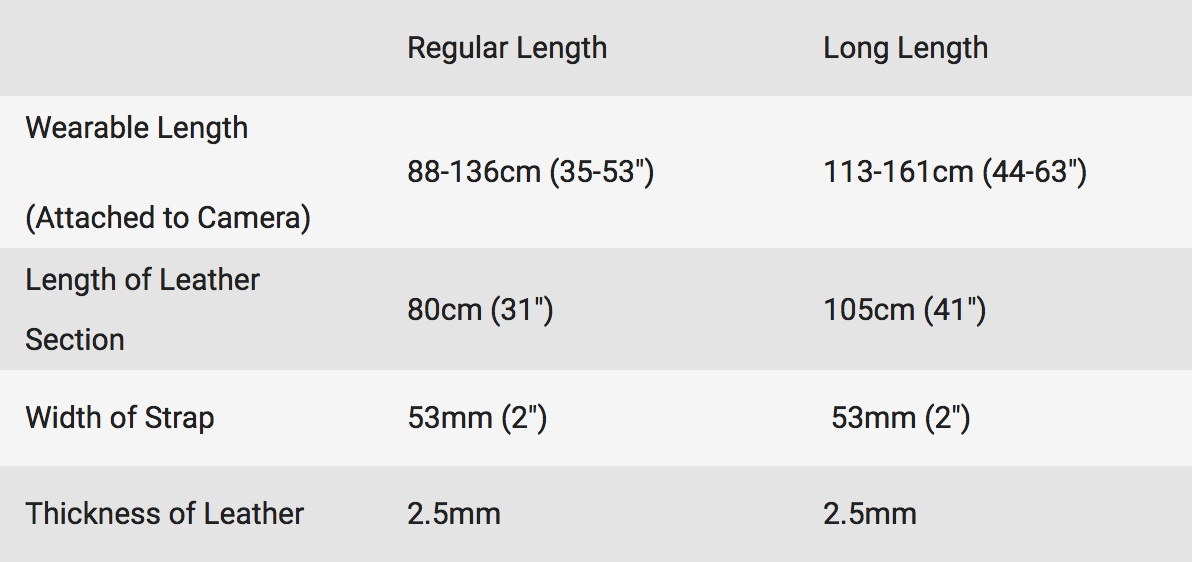 The Standard Length is little longer than a stock strap, perfect for using as a traditional neck strap or hanging off one shoulder. Also works as a cross body strap for most people up to about 170cm (5'7" tall).
Our Long Length strap are 25cm longer than our Standard Length which makes them better for wearing across the body for people over 170cm (5'7") tall.
More detailed info on choosing a strap here.
Will it fit my camera?
This strap will work with almost any camera, especially larger DSLR setups with heavy lenses. It attaches in the same way as the stock strap that came with your camera, so basically any camera that has a set of 10mm webbing slots or rings will work! Click here for more info.
How strong is it?
We have designed these straps to be worn all day with the heaviest pro DSLR setups so you can rest assured they are strong enough. If you are looking for a weight I have lifted a 40kg barbell with a strap without it breaking, but I hope your camera is not that heavy!
Personalisation Options
You can personalise your Lucky Camera Strap with custom embossing! It could be your name, an inspiring quote, your business name or even your own logo!
Prices start from AUD$35.95 and you can select the options right here on the product page before adding your strap to the cart.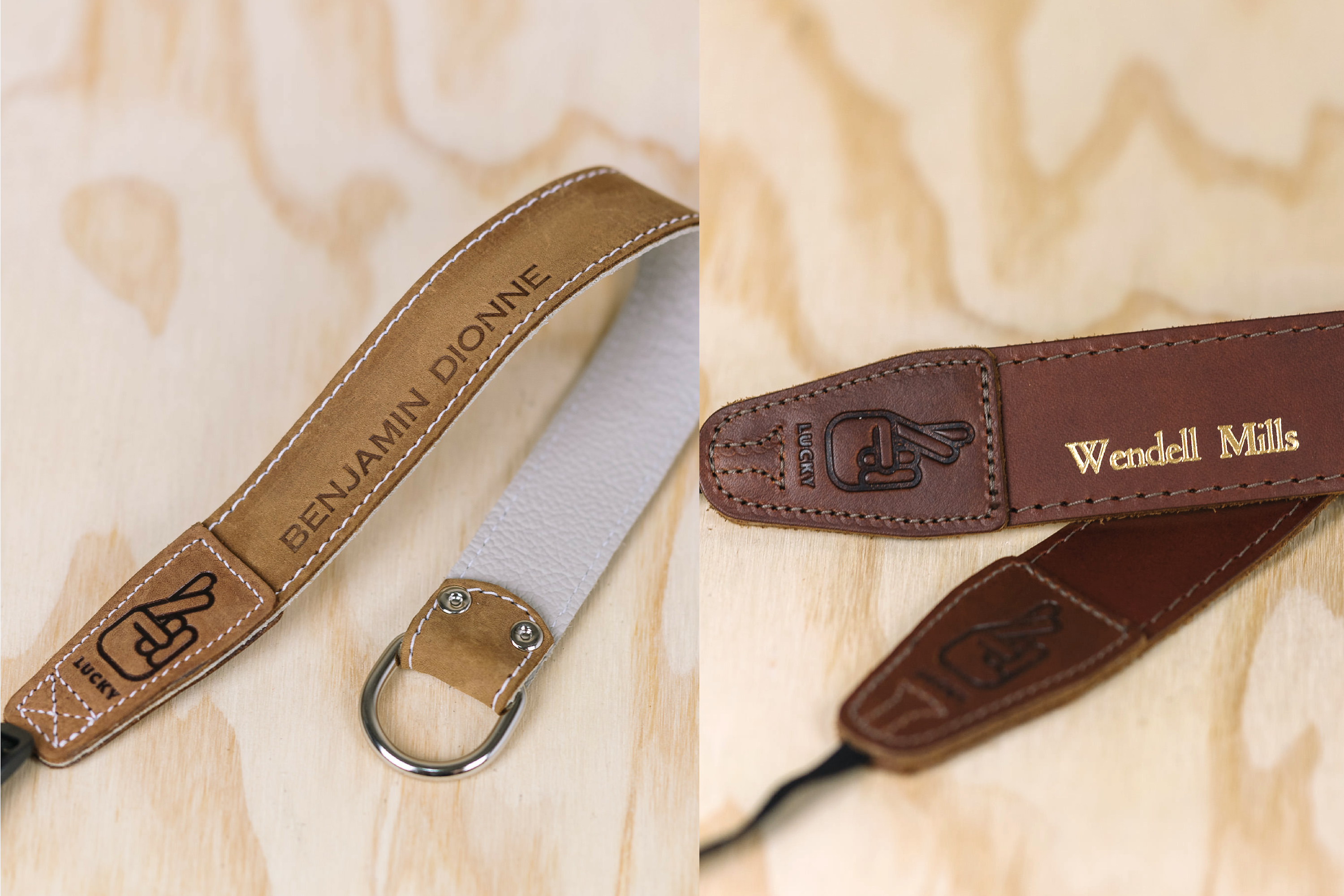 For more detailed information and examples images click here.
Shipping, Returns and Warranty
Handling Times
In stock straps will be dispatched in 1-3 business days.
In stock straps with text embossing will be dispatched in 2-4 business days.
Custom Logo straps can take 15-20 business days before they are dispatched so please contact us before ordering if you have a specific date you need if for.
Shipping Prices - In Australian Dollars
All Australian and New Zealand orders are sent via Australia Post Standard and Express Services
International Express orders are sent with DHL and are estimated to be 2-4 business days not including any customs delays.
Standard international orders are sent via the postal network and include tracking to most countries. Average delivery times are 2-4 weeks.
If applicable, please be aware of your countries import taxes (such as the VAT in UK and EU) and duties as you will be responsible for paying any of these types of fees before you can pick up your parcel.
Shipping times (not including handling time)
Australia
Standard - 2-5 business days
Express - 1-3 business days 
USA and Canada
Standard - 1-3 weeks
Express - 2-4 business days (not including customs delays)
New Zealand
Standard - 2-6 business days
Express - 2-4 business days

UK and Europe (please look out for notices regarding pickup and VAT taxes)
Standard - 2 to 4 weeks 
Express - 5 to 8 business days (not including customs delays)

Rest of World (tracking not available to all countries)
Standard - 2 to 4 weeks
Express - 6-10 business days (not including customs delays)
Warranty and Returns
30 Day No Questions Asked Returns
LIFETIME Common Sense Warranty on Workmanship
For more information about international shipping please click here
For more information about warranty and returns please click here
Reviews
Practical bling
Bought the black with red stitching as a match for my new Nikon Z6. Looks tops. I was worried that the 53 might have been a bit wide for the mirrorless, but no - it's a fairly heavy thing and the strap works well to distribute the load. Got the long length, because I prefer to carry cross-body. It doesn't slide all that well over clothes straight out of the box, but like all leathers, I'm sure it'll smooth up with regular use.
Waiting for the ducks to come by with the "Beast" 850 & its AWESOME new Lucky Strap in Black.
After weeks of looking online for a totally different and more useful common sense type of strap compared to the rest, I accidentally came across Lucky Straps website and the rest is history.
The Real Deal!
This is a genuine leather, handmade strap of exceptional quality. The leather is soft and pliable and gives great support for my D610 and is extremely comfortable. I'm around 180cm and the longer length suits well for cross-body use and the smoothness of the leather allows the camera to slide easily over clothing for easy access. A great product backed by prompt and friendly service that I cannot recommend highly enough.
Great strap
I recently purchased a std 53 black strap for my wifes birthday. I was able to personalize it with the name of her photography business. On the morning of her birthday she was blown away by the overall quality and how, with the gold personalized embossing, it was truly unique.
Ordering was a breeze and it arrived within day as promised.
Highly recommend
Fantastic
I ordered the camera strap as a gift for my best friend.
The order was placed Tuesday night at 8.09pm and it arrived in Brisbane on the Friday before 11.00am.
Unbelievably fast service, even more impressive as it was a personalised order with the embossing.
I am so happy with this product. The leather feels good and the product looks so impressive especially with the personalised name.
Very happy with this product and the service.
Well done!