Product image 1
Product image 2
Product image 3
Product image 4
Product image 5
Our newest wrist strap is designed and constructed just like our other 'Simple' straps.  It's a little different to our other wrist straps with only one piece of leather making up the body, the backside is unfinished and it looks and feels awesome! 

The leather strap threads through its own metal D ring allowing you to quickly tighten or loosen the strap around your wrist. 
This colour features no stitching on the main body for a super minimalist look that we love.
Our straps don't wear out, they wear in!  Every strap has unique textures and marks, it will get softer and more beautiful every time you use it.  To make it even more personalised, add you name, business or a quote with our embossing option,
Simple 20 Range
We have taken our super popular Simple 40 strap and slimmed it down to exactly half the width making it perfect for smaller cameras!  It's name comes from the design philosophy, we aimed for a minimalist look to compliment you camera without distracting from it.
The construction of the main part of the strap uses just one thicker piece of leather rather than two like our Slim 30 and Standard 53.  The leather we have chosen looks great and softens up after just a few uses. It will have some natural marks especially on the back side which is unfinished. 
Details and Sizing
Will it fit me?
To put it simply, yes! Wrist straps are one size fits all so you only have to decide if you want our thinner Simple 20 Wrist strap that is 20mm wide or our regular 30mm wide wrist strap.
Strap Width - 20mm (13/16")
Strap Thickness (body) - 2.4mm
Main Body Length - 37.5cm (15")
Total Length - 67.5cm (26.5")
Max Diameter for wrist/hand - 10cm (4")
Will it fit my camera?
This strap will work with almost any camera, especially larger DSLR setups with heavy lenses. It attaches in the same way as the stock strap that came with your camera, so basically any camera that has a set of 10mm webbing slots or rings will work! Click here for more info.
How strong is it?
We have designed these straps to be worn all day with the heaviest pro DSLR setups so you can rest assured they are strong enough. If you are looking for a weight I have lifted a 12kg kettlebell with a wrist strap without it breaking, but I hope your camera is not that heavy!
Personalisation Options
You can personalise your Lucky Camera Strap with custom embossing! It could be your name, an inspiring quote, your business name or even your own logo!
Prices start from AUD$35.95 and you can select the options right here on the product page before adding your strap to the cart.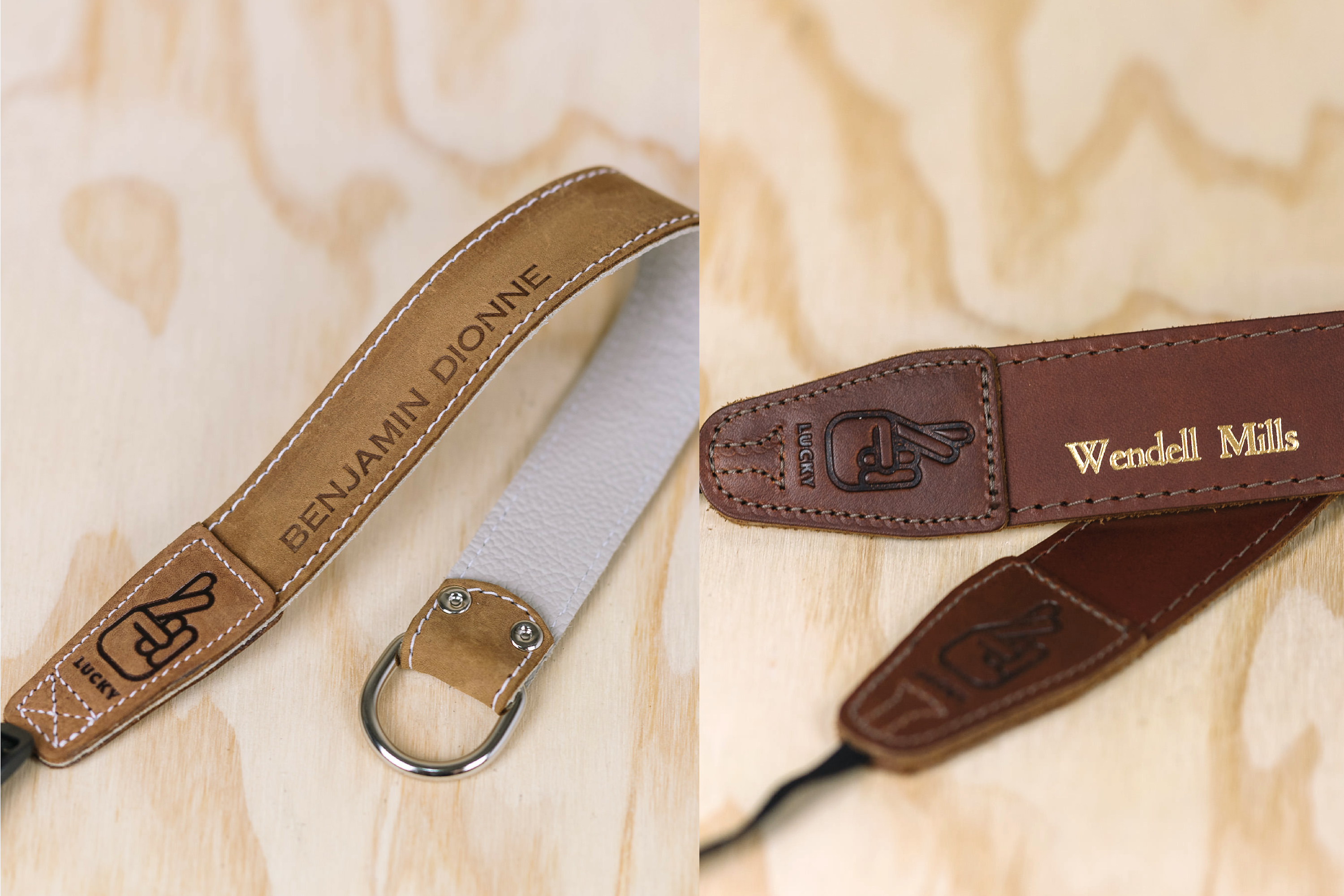 For more detailed information and examples images click here.
Shipping, Returns and Warranty
Handling Times
In stock straps will be dispatched in 1-3 business days.
In stock straps with text embossing will be dispatched in 2-4 business days.
Custom Logo straps can take 15-20 business days before they are dispatched so please contact us before ordering if you have a specific date you need if for.
Shipping Prices - In Australian Dollars
All Australian and New Zealand orders are sent via Australia Post Standard and Express Services
International Express orders are sent with DHL and are estimated to be 2-4 business days not including any customs delays.
Standard international orders are sent via the postal network and include tracking to most countries. Average delivery times are 2-4 weeks.
If applicable, please be aware of your countries import taxes (such as the VAT in UK and EU) and duties as you will be responsible for paying any of these types of fees before you can pick up your parcel.
Shipping times (not including handling time)
Australia
Standard - 2-5 business days
Express - 1-3 business days 
USA and Canada
Standard - 1-3 weeks
Express - 2-4 business days (not including customs delays)
New Zealand
Standard - 2-6 business days
Express - 2-4 business days

UK and Europe (please look out for notices regarding pickup and VAT taxes)
Standard - 2 to 4 weeks 
Express - 5 to 8 business days (not including customs delays)

Rest of World (tracking not available to all countries)
Standard - 2 to 4 weeks
Express - 6-10 business days (not including customs delays)
Warranty and Returns
30 Day No Questions Asked Returns
LIFETIME Common Sense Warranty on Workmanship
For more information about international shipping please click here
For more information about warranty and returns please click here
Reviews
Simple 20 - Highly Recommended
It's perfectly proportioned for my small wrists, and mirrorless camera.
Feels strong and safe, made with good quality materials, the lettering is clear and straight.
Super pleased with it, even better knowing it's Australian made.
Well made and functional!
My sister and I gifted ourselves with these wrist straps just prior to Christmas - and they are awesome! Nice a strong, well made, and give us the peace of mind needed when taking photos with our large DSLR cameras.
Side note - we actually ordered the thinner option, and they promptly contacted us informing us of stock issues and offered to upgrade our order to the thicker strap!
So a great strap and wonderful communication and service. I highly recommend.
Nice product, good service
I bought this as a gift, they were very happy with it! Felt very nice on wrist and good quality. Very slight hiccup with delivery but Justin was great with communication and issue was resolved within an hour. Good Service.
Wrist strap
This is a fantastic wrist strap, I looked for some time to find something of this quality and am really happy with what I got. Absolutely love it for my new GX85.
Great job
Beautiful strap guys, well done🤞🏾