Product image 1
Product image 2
Product image 3
Product image 4
Product image 5
Product image 6
Product image 7
Product image 8
Product image 9
Regular price
$99.00 AUD
Sale price
$110.00 AUD
***In production and will ship in 3-5 business days***
You asked and we delivered!  This strap is clean and stylish and it will blend into your life like it has always been there.  This black leather is the most beautiful Italian vegetable tanned leather we have ever seen.  It is 3mm thick, the perfect combination of comfort and durability.

Every strap in the New Simple 40 range has no accent stitching on the main body for a super minimalist look and the ultimate comfort. 
The edges of the strap are hand finished and waxed so they are round and feel super soft against your skin. The ends are stitched with matching thread and blind embossed with a subtle Lucky logo.
This strap is crafted to last a lifetime, it will get softer and softer with every use!
Our straps don't wear out, they wear in!  Every strap has unique textures and marks, it will get softer and more beautiful every time you use it.  To make it even more personalised, add your name, business or a quote with our embossing option.
Simple 40
Our Simple 40 range is not too thick and not too thin, it's just the right size for almost any interchangeable lens camera. It's name comes from the design philosophy, we aimed for a minimalist look to compliment you camera without distracting from it.
The construction of the main part of the strap uses just one thicker piece of leather rather than two like our Slim 30 and Standard 53.  The leather we have chosen looks great and softens up after just a few uses. It will have some natural marks especially on the back side which is unfinished.  This unfinished back also provides the perfect amount of grip and slip for using this as a cross body or shoulder strap.
Details and Sizing
Will it fit me?

The Standard Length is little longer than a stock strap, perfect for using as a traditional neck strap or hanging off one shoulder. Also works as a cross body strap for most people up to about 170cm (5'7" tall).

Our Long Length strap are 25cm longer than our Standard Length which makes them better for wearing across the body for people over 170cm (5'7") tall.
More detailed info on choosing a strap here.
Will it fit my camera?
This strap will work with almost any camera, especially larger DSLR setups with heavy lenses. It attaches in the same way as the stock strap that came with your camera, so basically any camera that has a set of 10mm webbing slots or rings will work! Click here for more info.
How strong is it?
We have designed these straps to be worn all day with the heaviest pro DSLR setups so you can rest assured they are strong enough. If you are looking for a weight I have lifted a 40kg barbell with a strap without it breaking, but I hope your camera is not that heavy!
Personalisation Options
You can personalise your Lucky Camera Strap with custom embossing! It could be your name, an inspiring quote, your business name or even your own logo!
Prices now start from just AUD$20 and you can select the options right here on the product page before adding your strap to the cart.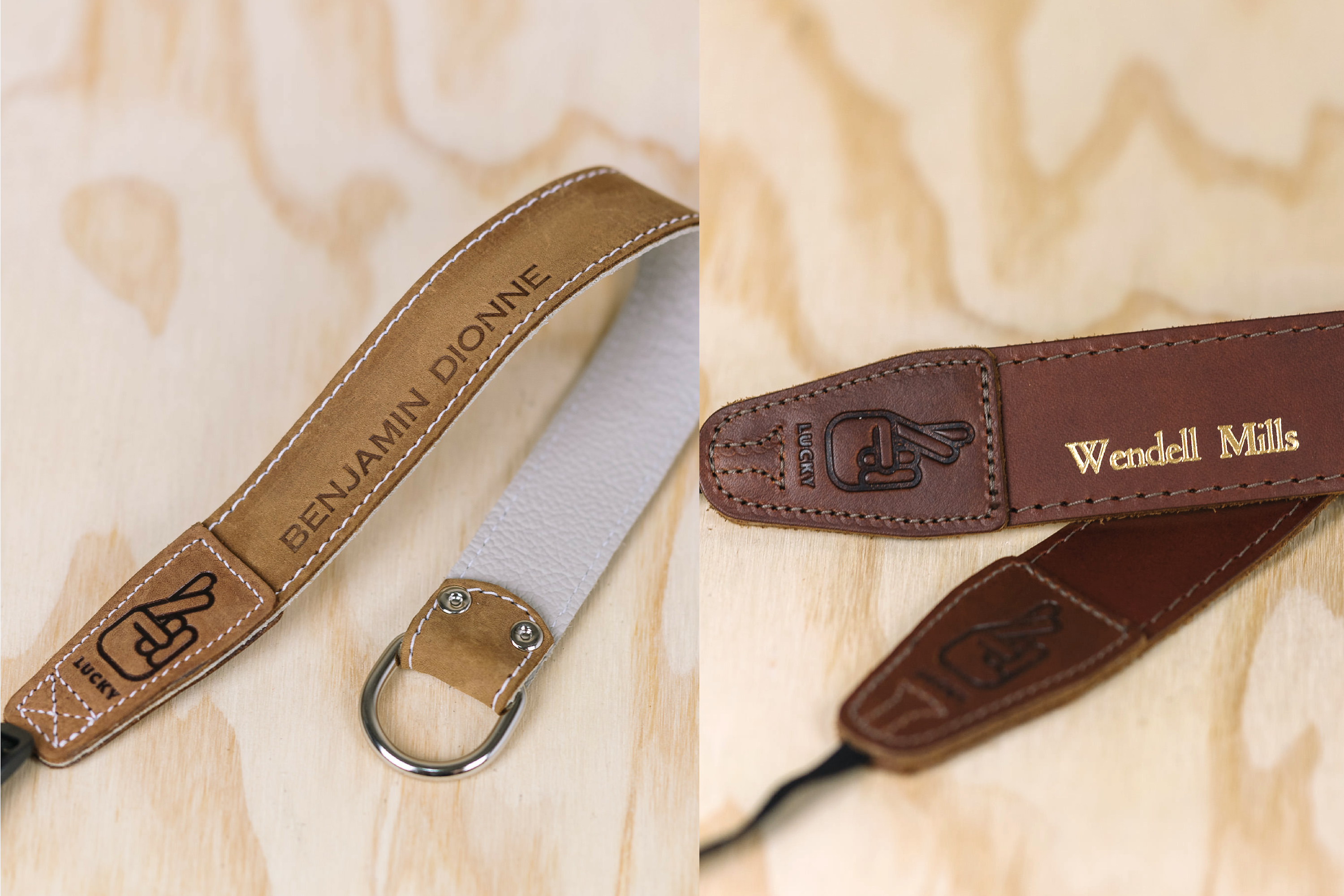 For more detailed information and examples images click here.
Shipping, Returns and Warranty
Handling Times
In stock straps will be dispatched in 1-3 business days.
In stock straps with text embossing will be dispatched in 2-4 business days.
Custom Logo straps can take 15-20 business days before they are dispatched so please contact us before ordering if you have a specific date you need if for.
Shipping Prices - In Australian Dollars
All Australian and New Zealand orders are sent via Australia Post Standard and Express Services
International Express orders are sent with DHL and are estimated to be 2-4 business days not including any customs delays.
Standard international orders are sent via the postal network and include tracking to most countries. Average delivery times are 2-4 weeks.
If applicable, please be aware of your countries import taxes (such as the VAT in UK and EU) and duties as you will be responsible for paying any of these types of fees before you can pick up your parcel.
Shipping times (not including handling time)
Australia
Standard - 2-5 business days
Express - 1-3 business days 
USA and Canada
Standard - 1-3 weeks
Express - 2-4 business days (not including customs delays)
New Zealand
Standard - 2-6 business days
Express - 2-4 business days

UK and Europe (please look out for notices regarding pickup and VAT taxes)
Standard - 2 to 4 weeks 
Express - 5 to 8 business days (not including customs delays)

Rest of World (tracking not available to all countries)
Standard - 2 to 4 weeks
Express - 6-10 business days (not including customs delays)
Warranty and Returns
30 Day No Questions Asked Returns
LIFETIME Common Sense Warranty on Workmanship
For more information about international shipping please click here
For more information about warranty and returns please click here
Reviews
Amazing on First Impression!
While I haven't had the chance yet to wear in my Lucky Strap, I'm quite impressed so far! Even without being worn in, it's the compliment strap I've ever used and I look forward to using the strap more on my Sony Alpha 6000 and on my Bushnell 10x50mm PermaFocus binoculars. The strap is quite compatible with Peak Design quick-release adaptors (see picture) and with the massive amount of information available on the Lucky Straps website and how much Lucky Straps care about their customers, I can't recommend Lucky Straps enough to those who can afford them (they are definitely pricey). The part of the strap I predict will wear out first is the synthetic fabric ends of the strap and I wonder whether Lucky Straps offer a repair service in the event that parts wear and tear to the point of being structurally compromised? With the way they operate as a company, I wouldn't be surprised if they did 👌
Simple 40 - Tan
My purchase arrived in a very cute box. Embossing is done pretty well, and the strap is made from high quality leather! Can't complain! It looks so pretty on my camera and i love using it. The color is what i have expected it to be as well. The product is highly recommended. 👍🏼
Should've bought one sooner...
Yep. Should've bought one sooner.
I kept looking at them and seeing them around, and didn't really think it would be that amazing. It arrived, and was good on a few family shoots I did, easy to manage and kept my camera at a comfortable level. The real test was the 10 hour wedding day. Just had that day on the weekend. Normally I end up with a sore neck and shoulders from carrying heavy cameras on silly length straps. But not this weekend! The long length was perfect for me, I got through the day and did not wake up sore on the Sunday. My physio will be slightly impressed, but is missing my usual "fix me please" call (and the money she gets with it!).
I only really carry two cameras for the ceremony, and considering a second strap, because it sat so awkwardly in comparison. They're a stunning and well made. The videos and length comparisons on the website made the decision process so much easier! Fabulous product!
Beautiful, well-made product
We chose the Simple 40 in black for a much-loved colleague. It came nicely packaged for gifting, the embossing was done perfectly, and what we saw on the website was what we got - a beautifully made, high quality leather camera strap. We also received our order very quickly which was much appreciated. Their website size/length guide with pictures and descriptions was very helpful and took the stress of figuring out all that stuff away. Clever!
Quality
This is a great quality product. The leather feels thick and high quality