Standard 53 - Black (7 Stitching Colours)
Product image 1
Product image 2
Product image 3
Product image 4
Product image 5
Product image 6
Product image 7
Product image 8
Product image 9
Product image 10
Product image 11
Product image 12
Product image 13
Product image 14
Product image 15
Product image 16
Product image 17
Product image 18
Regular price
$120.00 AUD
***Now available in 7 different stitching colours!***
This one is for photography ninjas! Both sides are beautiful and soft black leather with matching black ends and blind embossed Lucky logos.
If you want to upgrade your stock strap to something that is way more comfortable and more stealthy (no big logos) then this strap is perfect.
Longer and much more comfortable than stock camera straps
Designed to be worn across your body (like a sling) not around your neck
Two lengths available and both are adjustable to fine tune your fit
'Regular Length' suits up to 170cm or 5'7" tall, otherwise choose 'Long Length'
Perfect for medium to large sized Mirrorless, DSLR and even Medium Format Cameras
Australian Made with love in our Bendigo based factory
Standard Australian made webbing ends connect to almost every camera
Personalise it with your name or logo!
*See tabs below for more info on sizing and personalisation
Standard 53 Design

This design was our first camera strap and is by far our most popular strap of all time!  The 'Standard 53' is wider, longer and handmade from soft leather so that you can carry your DSLR all day without getting sore.
Unlike our Simple range, the body of the Standard 53 is actually two pieces of leather which is glued back-to-back and stitched together for a lifetime of durability. We then add our embossed end pieces which are also glued and stitched to connect the 10mm webbing ends to the main body.
Details and Sizing
Will it fit me?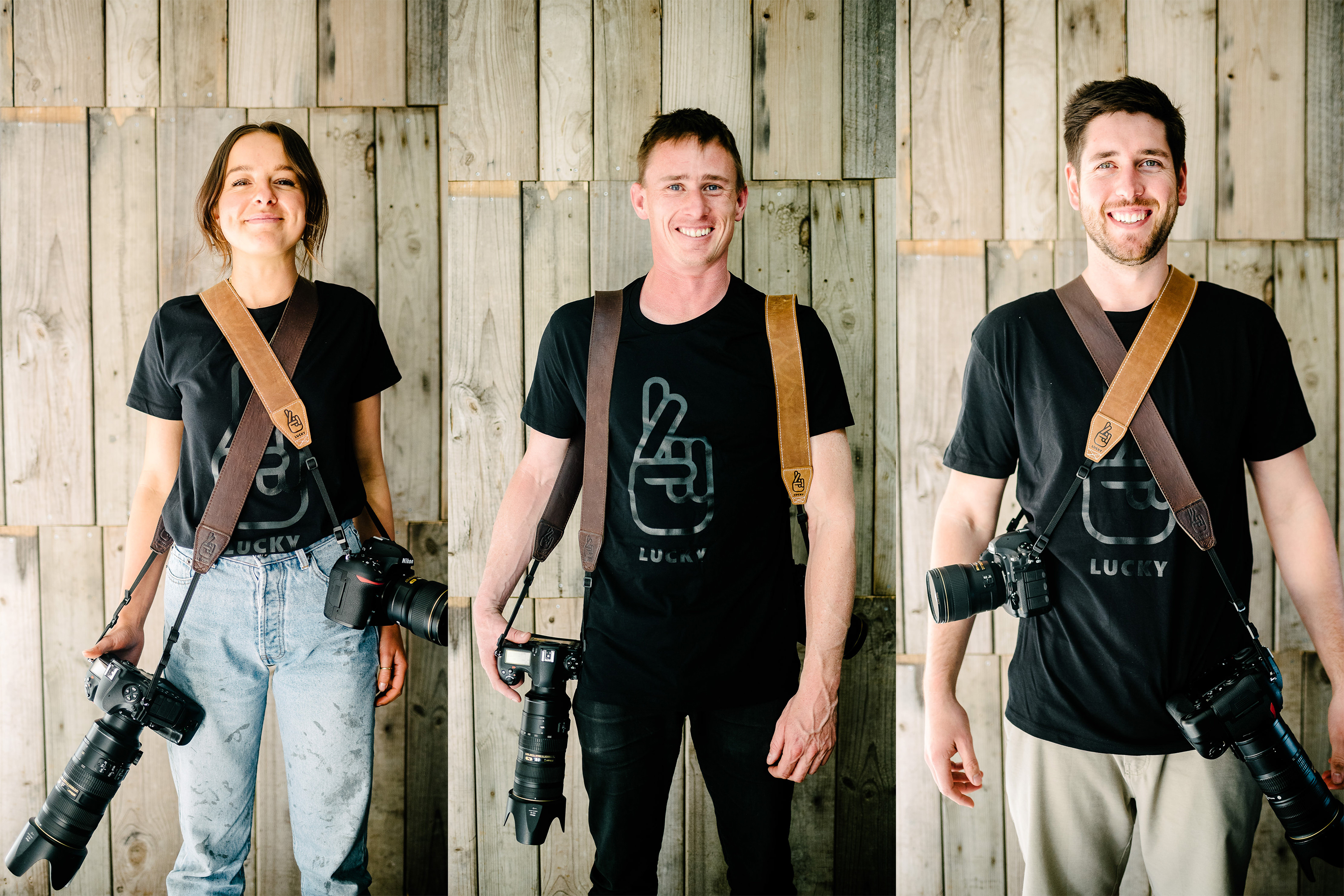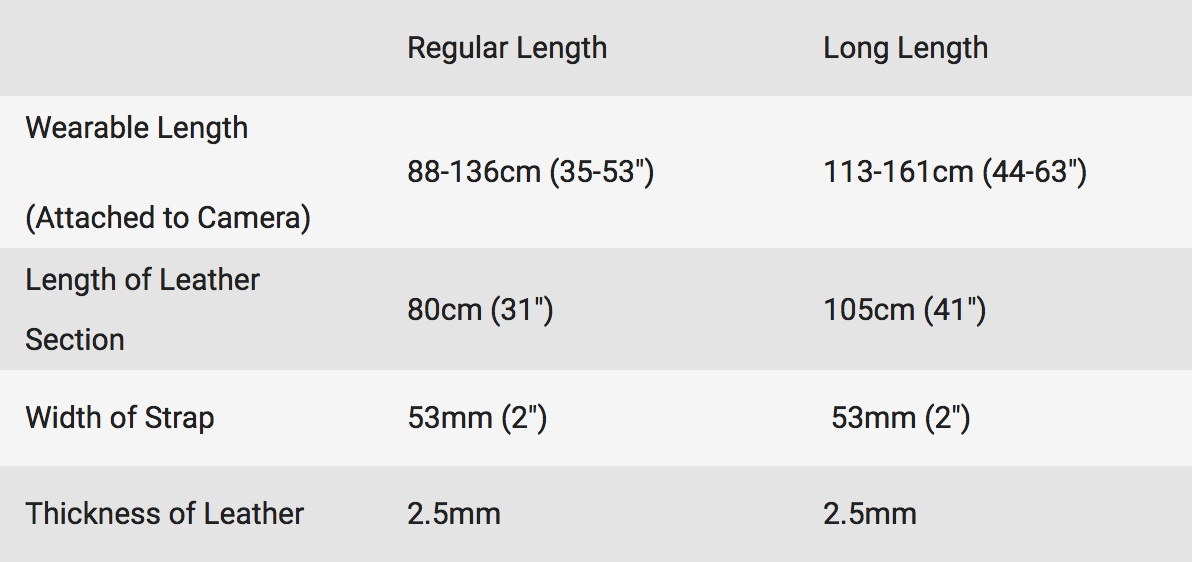 The Standard Length is little longer than a stock strap, perfect for using as a traditional neck strap or hanging off one shoulder. Also works as a cross body strap for most people up to about 170cm (5'7" tall).
Our Long Length strap are 25cm longer than our Standard Length which makes them better for wearing across the body for people over 170cm (5'7") tall.
More detailed info on choosing a strap here.
Will it fit my camera?
This strap will work with almost any camera, especially larger DSLR setups with heavy lenses. It attaches in the same way as the stock strap that came with your camera, so basically any camera that has a set of 10mm webbing slots or rings will work! Click here for more info.
How strong is it?
We have designed these straps to be worn all day with the heaviest pro DSLR setups so you can rest assured they are strong enough. If you are looking for a weight I have lifted a 40kg barbell with a strap without it breaking, but I hope your camera is not that heavy!
Personalisation Options
You can personalise your Lucky Camera Strap with custom embossing! It could be your name, an inspiring quote, your business name or even your own logo!
Prices now start from just AUD$20 and you can select the options right here on the product page before adding your strap to the cart.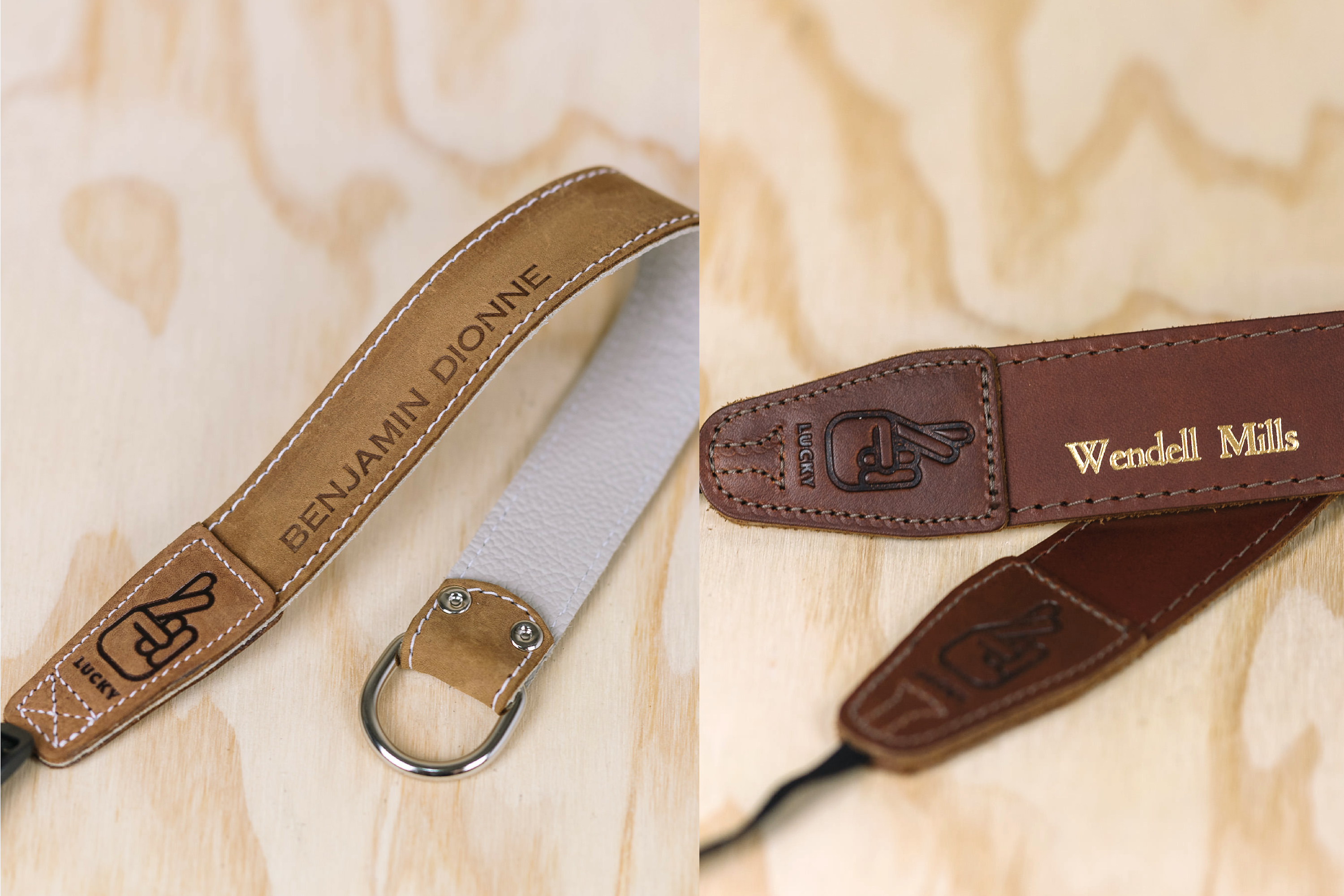 For more detailed information and examples images click here.
Shipping, Returns and Warranty
Handling Times
In stock straps will be dispatched in 1-3 business days.
In stock straps with text embossing will be dispatched in 2-4 business days.
Custom Logo straps can take 15-20 business days before they are dispatched so please contact us before ordering if you have a specific date you need if for.
Shipping Prices - In Australian Dollars
All Australian and New Zealand orders are sent via Australia Post Standard and Express Services
International Express orders are sent with DHL and are estimated to be 2-4 business days not including any customs delays.
Standard international orders are sent via the postal network and include tracking to most countries. Average delivery times are 2-4 weeks.
If applicable, please be aware of your countries import taxes (such as the VAT in UK and EU) and duties as you will be responsible for paying any of these types of fees before you can pick up your parcel.
Shipping times (not including handling time)
Australia
Standard - 2-5 business days
Express - 1-3 business days 
USA and Canada
Standard - 1-3 weeks
Express - 2-4 business days (not including customs delays)
New Zealand
Standard - 2-6 business days
Express - 2-4 business days

UK and Europe (please look out for notices regarding pickup and VAT taxes)
Standard - 2 to 4 weeks 
Express - 5 to 8 business days (not including customs delays)

Rest of World (tracking not available to all countries)
Standard - 2 to 4 weeks
Express - 6-10 business days (not including customs delays)
Warranty and Returns
30 Day No Questions Asked Returns
LIFETIME Common Sense Warranty on Workmanship
For more information about international shipping please click here
For more information about warranty and returns please click here
Reviews
My sister loves her camera and photography.. she loved it so much. Been wanting one for many years. Thank you
Was a Gift - However received with many thanks!!
Bought this strap as a gift for my nephew who saw mine on my Nikon Df and wished for one. He is totally wrapped with it :)
Thanks Lucky Straps!!
Standard Long 53
The longer version of the Standard 53 is a great camera strap and gives you the flexibility to just carry it over your shoulder or also put it over your shoulder and across the neck to reduce the chances of it dropping down.
Highly Recommed!
Amazing quality and design! I'm using it on my Nikon D750 and it is perfect !!
Perfect for my heavy Nikons..
My son uses a luckystraps strap on his Nikon F4s, and I have a few of the older (larger) F series bodies. The black and wine colours are perfect for the Nikon's splash of red, and I am now looking at getting a wrist strap too. Wonderful workmanship and packaged stylishly.