Product image 1
Product image 2
Product image 3
Product image 4
Product image 5
Product image 6
Product image 7
Product image 8
Do you prefer not to use a neck/shoulder strap because it gets in your way?  Our new wrist straps are the perfect way to make sure your camera stays connected to you even if you drop it!
This strap is the same size as our Slim 30 neck/shoulder strap so it is 30mm wide.  This is perfect to be comfortable around your wrist and strong enough for pro sized cameras and lenses.  It connects to one camera strap point by 10mm webbing with an adjustable slide buckle.   The leather strap threads through its own metal D ring allowing you to quickly tighten or loosen the strap around your wrist.
Like all of your straps you can customise these with personalised embossing of your name, business ect.  This can make it the perfect present for the photographer in your life.
What you are looking at is a body of two pieces of 100% leather which is stitched together for strength and comfort.  We then add our embossed end pieces which and glued and cross stitched to connect the 10mm webbing to the main body. These are real leather straps that are made in our Australian factory!
This strap will work with most cameras, but as it is a 10mm webbing connection you will need a ring or slot of that size.
Strap Width - 30mm
Strap Thickness  (body) - 2mm 
Main Body Length - 37.5cm
Total Length - 67.5cm
Max Diameter - 10cm
100% Genuine Leather
Made in Australia
FREE Express Shipping Australia Wide
$10 International Shipping Anywhere Else in the World
30 Day No Questions Asked Returns
LIFETIME Common Sense Warranty on Workmanship
Details and Options
Will it fit me?
To put it simply, yes! Wrist straps are one size fits all so you only have to decide if you want our standard 30mm wide wrist strap or our thinner Simple 20 Wrist strap that is 20mm wide.
Strap Width - 30mm (1 3/16")
Strap Thickness (body) - 2.4mm
Main Body Length - 37.5cm (15")
Total Length - 67.5cm (26.5")
Max Diameter for wrist/hand - 10cm (4")
Will it fit my camera?
This strap will work with almost any camera, especially larger DSLR setups with heavy lenses. It attaches in the same way as the stock strap that came with your camera, so basically any camera that has a set of 10mm webbing slots or rings will work! Click here for more info.
How strong is it?
We have designed these straps to be worn all day with the heaviest pro DSLR setups so you can rest assured they are strong enough. If you are looking for a weight I have lifted a 16kg kettlebell with a wrist strap without it breaking, but I hope your camera is not that heavy!
Personalisation Options
You can personalise your Lucky Camera Strap with custom embossing! It could be your name, an inspiring quote, your business name or even your own logo!
Prices start from AUD$35.95 and you can select the options right here on the product page before adding your strap to the cart.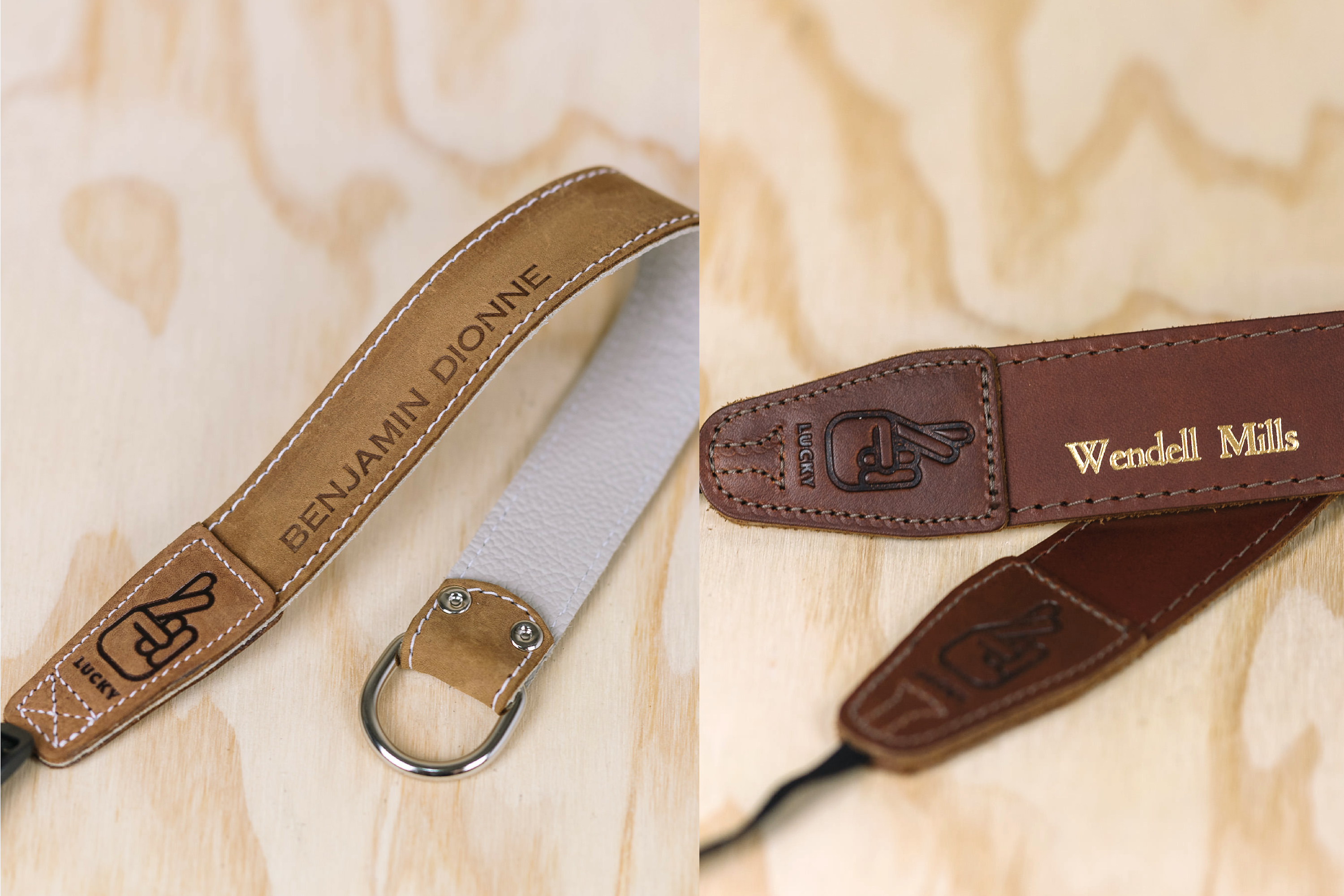 For more detailed information and examples images click here.
Shipping, Returns and Warranty
Handling Times
In stock straps will be dispatched in 1-3 business days.
In stock straps with text embossing will be dispatched in 2-4 business days.
Custom Logo straps can take 15-20 business days before they are dispatched so please contact us before ordering if you have a specific date you need if for.
Shipping Prices - In Australian Dollars
All Australian and New Zealand orders are sent via Australia Post Standard and Express Services
International Express orders are sent with DHL and are estimated to be 2-4 business days not including any customs delays.
Standard international orders are sent via the postal network and include tracking to most countries. Average delivery times are 2-4 weeks.
If applicable, please be aware of your countries import taxes (such as the VAT in UK and EU) and duties as you will be responsible for paying any of these types of fees before you can pick up your parcel.
Shipping times (not including handling time)
Australia
Standard - 2-5 business days
Express - 1-3 business days 
USA and Canada
Standard - 1-3 weeks
Express - 2-4 business days (not including customs delays)
New Zealand
Standard - 2-6 business days
Express - 2-4 business days

UK and Europe (please look out for notices regarding pickup and VAT taxes)
Standard - 2 to 4 weeks 
Express - 5 to 8 business days (not including customs delays)

Rest of World (tracking not available to all countries)
Standard - 2 to 4 weeks
Express - 6-10 business days (not including customs delays)
Warranty and Returns
30 Day No Questions Asked Returns
LIFETIME Common Sense Warranty on Workmanship
For more information about international shipping please click here
For more information about warranty and returns please click here
Reviews
Amazing!
Such a good accessory to add to your kit! Looks so neat, is super functional and amazing quality 👏🏻
Amazing Quality
The best camera strap ever! Holds up the bettering it receives and feels very very comfortable.
Definitely going to get a few more 😁
Wrist strap
I love my new wrist strap been using it a few weeks now and the feeling is awesome and makes me have a more secure feeling without having to have a neck strap.
Top Quality
Even though I had to send all the way to Australia to get an a camera strap of this amazing quality, it was totally worth it! The arrival was less than a week, and the quality was even better than I expected! It was tough to decide which one to get, but I opted for the black and wine which looks great with the Nikon body black and red. Keep up the great work!
Pure quality
Love this little strap, comfortable with my Fuji X-T3, and looks really good. Length is epic to drop and pickup at a moments notice. Also had difficulty with shipping and Justin was able to sort me out within a couple of days. Quality experience all round!